Each innovative PHYRIS facial offers powerful & visible results tailored to your
individual skin conditions & needs.
Exfoliates, deep cleansers, peels (papaya enzyme & AHA Fruit Acids) prepare the skin for the appropriate facial treatments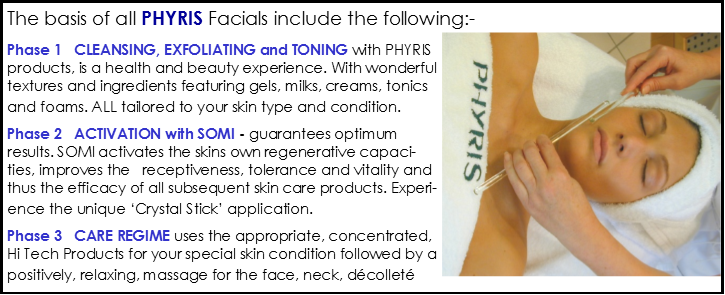 • Problem Solving Facials
Select out of 6 customised facials –
Based on your skin condition, your desired end result is achieved by using modern, hi-tech formulation & phyto active ingredients to support, renew & protect your skin.
Special Care for sensitive & stressed skin

Comfort Care for oily & acne prone

Refining skin surface
Anti-pigmentation, Whitening & Lightening
Deep moisturising and refreshing for dehydrated skin
Firming & Moisturising Hyaluron Mask

• Mini Express Facial and/or Seasonal Facials– for a quick 'pick-me-up' for the busy schedule and preparation for that special occasion.
• Age-Defying Facials
• Advanced Hi Tech Facials

Micro Dermabrasion
Dermalift