What is a Cosmetic Tattoo (Permanent Make Up)?
A Cosmetic Tattoo uses an advanced hypo-allergenic, natural pigment which is implanted into the dermal layer of the skin with amazing results.
Also known as Micropigmentation or Permanent Cosmetics.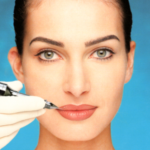 This process is used for cosmetic and corrective purposes which creates a lasting effect to accentuate and improve the definition of eyes, eyebrows and lips – thereby enhancing your facial features.
.
.
NO More …
Running Eye Make-up
Pencilling in Eyebrows
Hard to define Lips
Bleeding Lipstick
Who Benefits from a Cosmetic Tattoo?
Busy people / Athletes / Entertainers / Models
Physically & Visually Impaired
Allergy prone, sensitive to make-up
Those lacking confidence in makeup application
Those who want to save time & look good, even under the most active conditions
Those with Alopecia (hair loss)
Men who desire the appearance of fuller looking eyebrows
Note: Treatment not recommended for Vitiligo sufferers (pigmentation loss)
Whatever procedures are desired, a cosmetic tattoo can create a polished look or something subtle and natural.