Beauty 24/7 offers a FREE consultation to those wanting a Cosmetic Tattoo procedure. This FREE consultation gives you the opportunity to: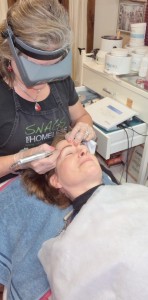 Discuss what is involved
View our extensive portfolio
Before selecting a Cosmetic Tattoo Practitioner it is recommended to:
Go for an interview at their clinic or salon.
Ask about their background.
Do they keep up with continuing education?
Do they have certificates to prove this?
Ask to see them.
Do they belong to any Beauty Associations?
Do they have a valid Professional Liability Insurance?
Evaluate the cleanliness of their premises.
Determine if they use disposable machine parts.
Do they use heat sterilisation on all equipment?
How many pigment colours do they have? They should have more than 20 colours.
Discuss the procedure with the Practitioner.
Tell the practitioner what you want done and listen to their ideas Did they listen to what you want?
Do they explain everything in detail?
Can you communicate well with them?
Does the practitioner specialise in this field?
Ask to see photographs of their work.
If you have had prior a cosmetic tattoo treatment yourself, how does it compare with what you've seen?